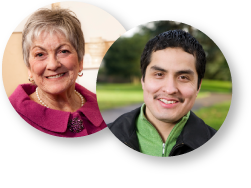 Cohorts
CRIC
The CRIC Study was initially designed to include a racially diverse group of adults aged 21 to 74 years with mild to moderate chronic kidney disease (CKD). Recruitment began in May 2003. By design, approximately half of those recruited had diabetes, half were women, and half were African American.
Beginning in October 2005, an additional set of 327 Hispanic participants were recruited through a supplemental effort at the CRIC Study's University of Illinois at Chicago site bringing the total number of Hispanic CRIC participants to 496. All together, a total of 3939 individuals entered the study by August 2008 when initial recruitment ended. Throughout recruitment and subsequently, study participants complete annual in-person study visits.
CRIC reinitiated recruitment on July 1, 2013 to expand the CRIC cohort and enrolled an additional 1,560 new participants through August 2015. The eligible age range for these participants is 45 to 79 years to expand the focus on CKD in the elderly. This newly recruited group provides for a greater emphasis on early stages of CKD to advance the understanding of factors that contribute to the progression of CKD and promote the development of strategies to reduce the burden of kidney disease. Follow-up of CRIC participants will continue at least until 2018.